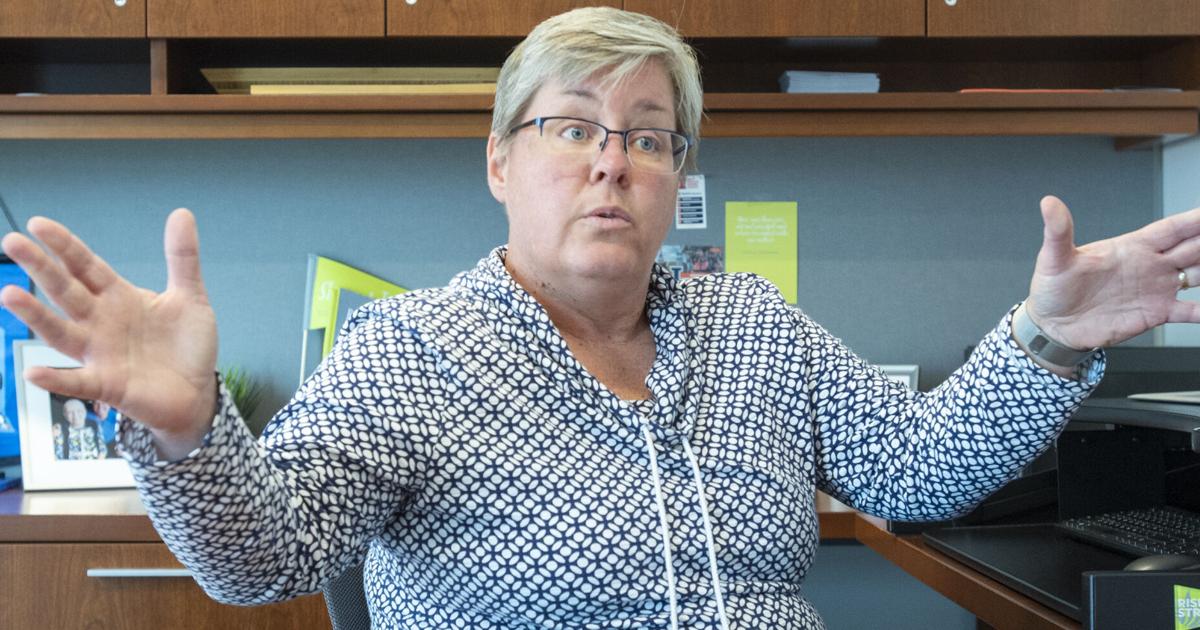 50 Years of Title IX: Burton's Position at DIA Remains 'Student-Athlete Centered' | Sports
CHAMPAGNE — Sara Burton holds the longest title of any sports administrator in Illinois. But don't let the importance of Burton's role get lost in the word salad of the professional title that is her role as Senior Associate Executive Director of Athletics, Sports Administration/Senior Administrator.
It's the last designation on Burton's title – senior director – that is arguably the most significant. This is a position mandated by the NCAA in every athletic department under its umbrella, Division I through Division III, following the passage of federal Title IX civil rights legislation that prohibits discrimination based on gender in any school or other educational program that receives federal government funding. government. The 50th anniversary of Title IX will be celebrated on Thursday.
"The reason for that is that typically, historically, women weren't in the room to make executive decisions, which ultimately affects gender equity," Burton said of the company's adoption. NCAA Senior Female Administrator Designation. "If the only people in the room sitting around the table making decisions for all genders of student-athletes are men, it's going to be a pretty skewed process. Sure, a lot of them have the big picture, but when you think about when it was implemented, it turned out to be problematic.
"While Title IX may have provided access, it didn't necessarily change the quality in any significant way beyond what was required. It's about moving a bit from defense to attack and s make sure there are other diverse perspectives in the room.
Sports have always been a part of life for Burton who grew up in Tulsa, Okla. His parents were both Oklahoma graduates and Sooners fans.
"In my house it was, 'Sooner born, sooner raised and someday I'll be dead sooner,'" Burton said. "It was all linked through the prism of athletics. … This piece of sport has always been present in my life, and my parents really encouraged my brother and I to pursue our passions, whatever they were.
"Once I got a taste of sports, it was absolutely a passion. Piano, flute and acting were all pushed in that direction, and sports became much more central to my identity.
Burton attended Knox College in Galesburg and played both football and basketball as a freshman before focusing solely on football.
These were the beginnings of Title IX. Burton's freshman year at Knox in 1987 doubled as the football program's first season as a college sport. Resources were…scarce.
"I came into a program that had been a club team before," Burton said. "It was definitely a time when it was still very evident that while there was access, there was no equity."
An opportunity to join former Knox coach Amy Reifert at the University of Chicago kept Burton involved in football. Her salary her first year as an assistant was $2,000 and was supplemented by a part-time job with the college's alumni association and savings on housing by living with Reifert and her husband.
Even when she moved to Wisconsin-LaCrosse to run her own program, Burton still had non-coaching duties. She spent 20 years coaching the Eagles, but only two where more than 25% of her working week was spent strictly on football.
But a career in sports still resonated deeply.
"I think part of it was that I knew how critical it was to my identity and my development as a person to be able to be in a space where you experience incredible ups and downs and where you are grounded. challenge to grow," Burton said. "I wanted the chance to impact the lives of student-athletes the same way my life was impacted."
Burton continued to do so after moving from coaching to athletic administration at UW-LaCrosse where she first worked for Illinois athletic director Josh Whitman. She did it again at Washington University in St. Louis before joining Whitman at Illinois in 2018.
"As I got older in my (coaching) career, I also realized that I had a lot of skills to impact the health and well-being of student-athletes beyond the ground," Burton said. "The chance to do it, not just for 26 student-athletes, but for 400 to 500 student-athletes."
Burton is the only athletic administrator in Illinois to have coached at the collegiate level. It is this unique journey as a former student-athlete herself and then a coach that shapes the way she approaches her administrative career. It's always the student-athletes first.
"When I think about how I can shape those experiences for our current student-athletes and coaches, that's really relevant to me," Burton said. "That's my goal is to continue to have that impact and to have a sense of connection and empathy for the people who are going through those lived experiences. … Whenever I have the opportunity to remain student-athlete centered in my day-to-day work, I appreciate it. He's what we're all really striving to have an impact on.
Burton has seen firsthand, as an athlete, coach, and administrator, how Title IX has changed the college experience. There's no question, she said, that the sport has evolved and grown to meet the needs of every student-athlete, which she called a "core responsibility" for leaders in athletics, no matter what. or federal law.
There is still room for improvement.
"We still exist in a space that's incredibly culturally influenced by men's sports," Burton said. "Fortunately, there are role models that continue to evolve around women's sport. … Part of that is the cultural mindset. Where are we sociologically with this access? Do we really see women in the culture as this viable competitor? I do. I can safely say that not everyone does. …I think it's absolutely improved, but there's still a long way to go. Culturally, our focus around sport is what needs to continue to evolve.