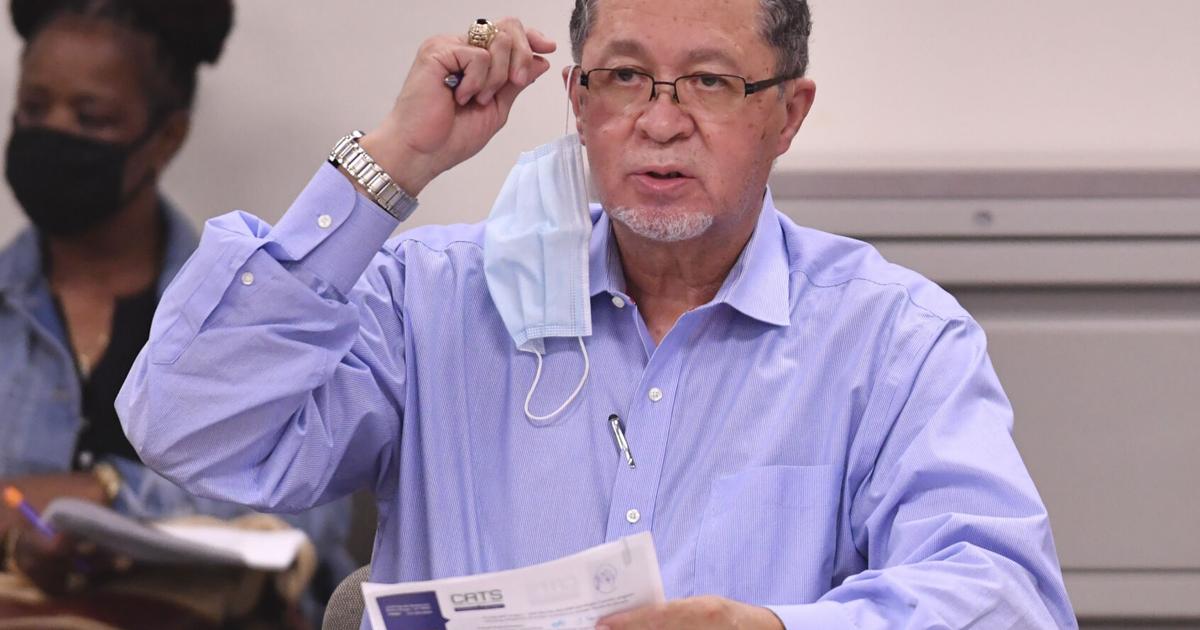 Chief of Baton Rouge Bus System Removed, Acting CEO Appointed | News
[ad_1]
Following a contentious meeting, the Capital Region Transit System Supervisory Board has stripped system CEO Bill Deville of his title and duties following a series of controversies within the agency.
The board entered the meeting planning to terminate Deville's contract entirely, but abruptly opted to leave him with no title or responsibilities – but he's still set to earn at least $179,000 a year until the end. expiry of his contract in September 2023.
"We kept his job, removed his CEO title and appointed an interim CEO," Board of Commissioners Chairman Kahli Cohran said. "We will further define his responsibilities."
The bus system's board has named Dwana Williams, the agency's chief operating officer, interim CEO. She will hold this position indefinitely while the board searches for a permanent replacement.
The board of directors came to the meeting intending to terminate Deville's contract. But that plan was derailed when Metro Council Pro Tem LaMont Cole appeared before the board as a private citizen to warn against firing Deville, arguing it likely wouldn't be for cause.
"I hope the board members who came to the conclusion to fire Mr. Deville today would take a little time, sit down, have a conversation with him, have a conversation with the staff, develop a transition forward that would allow the agency to do what is best, not just for CATS but for the general public," Cole told the board.
After deliberation, the board decided to simply strip him of his title and duties, but allow him to remain an employee of the agency under his current contract.
Board vice-chairman Linda Perkins, who argued for simply terminating Deville's contract, was the only vote against removing Deville from her title and duties.
The board hopes Deville will advise Williams on her transition to the interim CEO position and provide guidance in the search for a permanent CEO, Cohran said. The board did not define any new responsibilities or titles for Deville at the meeting.
Deville was named the agency's CEO in the spring of 2016. He celebrated his sixth anniversary on Sunday leading the bus system.
While CATS has seen improvements in bus service during this time, a steady stream of controversy has marred much of its tenure.
"We had too many unforced errors, lapses in management and judgment and those played into the news, and I think most of the things that happened in the news could have been avoided," said Patrick Downs, Board Member. mentioned. "I think we owe it to taxpayers and passengers to better manage the system."
Several other board members said they had "lost faith" in Deville in recent weeks.
The board called the special meeting after weeks of turmoil at the agency after the system controller's positive drug test for methamphetamine was leaked to the public.
CATS is also fighting a federal lawsuit by its union, which accuses Deville of 'union busting' by punishing employees who exposed what they called 'corrupt business practices' and unsafe working conditions during the pandemic. . The lawsuit came after the transit agency spent $50,000 investigating several union leaders for allegedly releasing a co-worker's sex tape.
The system has also had reliability issues in recent years, including an increase in route cancellations for most of 2021 that left some passengers stranded at bus stops.
"There are a number of administrative issues throughout the organization," Cohran told a group of reporters after the meeting. "You haven't all run out of… material to report on the agency over time."
Deville's biggest success came in November when the agency successfully lobbied voters in Baton Rouge and Baker to renew the 10-year property tax that accounts for more than half of the agency's operating budget. .
"The system works," Downs said. "It can always be better, and we're working on it. Bill deserves some credit for things that go well, but my personal frustration is that we seem unable to deviate from a management perspective."
Williams is a longtime CATS employee who has worked her way up to an administrative position. She started working at the agency in 2003 and was named head of dispatch in 2010, according to her LinkedIn profile. Williams went on to receive a series of promotions, to chief operating officer, chief operating officer and was named chief operating officer in March 2019, according to her LinkedIn profile.
[ad_2]
Source link