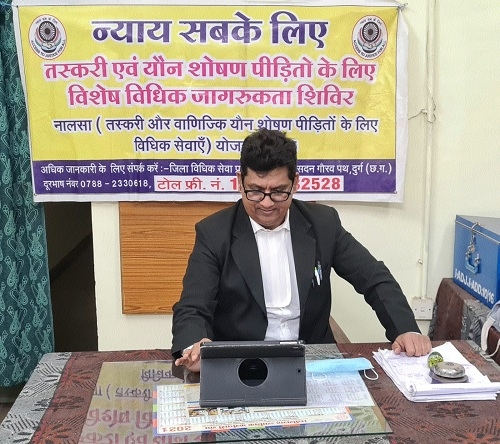 DLSA launches campaign against child abuse
Staff reporter:
Durg,
The District Legal Services Authority (DLSA), Durg, has launched a special campaign to publicize various programs of the National Legal Services Authority (NALSA). The special awareness campaign was launched in accordance with guidelines issued by District Judge/DLSA Chairman Rajesh Shrivastava. With the coordination of the Department of Education, Additional District Judge Anand Prakash Variyal briefed school children regarding child abuse by connecting with them virtually. Addressing the students, Bailiff Variyal said that in our culture, we believe that God resides in the hearts of children, but in the current scenario, sexual offenses against children have surfaced in large numbers and this is called child abuse.
Variyal informed the students that taking objectionable photos of a child, wearing offensive photos of children, uploading or distributing them is an offense and all fall under child abuse. He informed the students that in most cases the child avoids talking about the abuse because he is made to believe that it is his mistake and that the person exploiting the child is succeeding in his intention. The law officer further informed the students that in our country speaking out on matters related to sexuality is considered shameful and offensive and that is the reason why children refrain from speaking to their parents of the sexual abuse they have suffered, further adding that it is absolutely necessary to create awareness on the issue. He also detailed the Protection of Children from Sexual Offenses Act (POCSO) and other laws aimed at protecting children and punishing offenders.