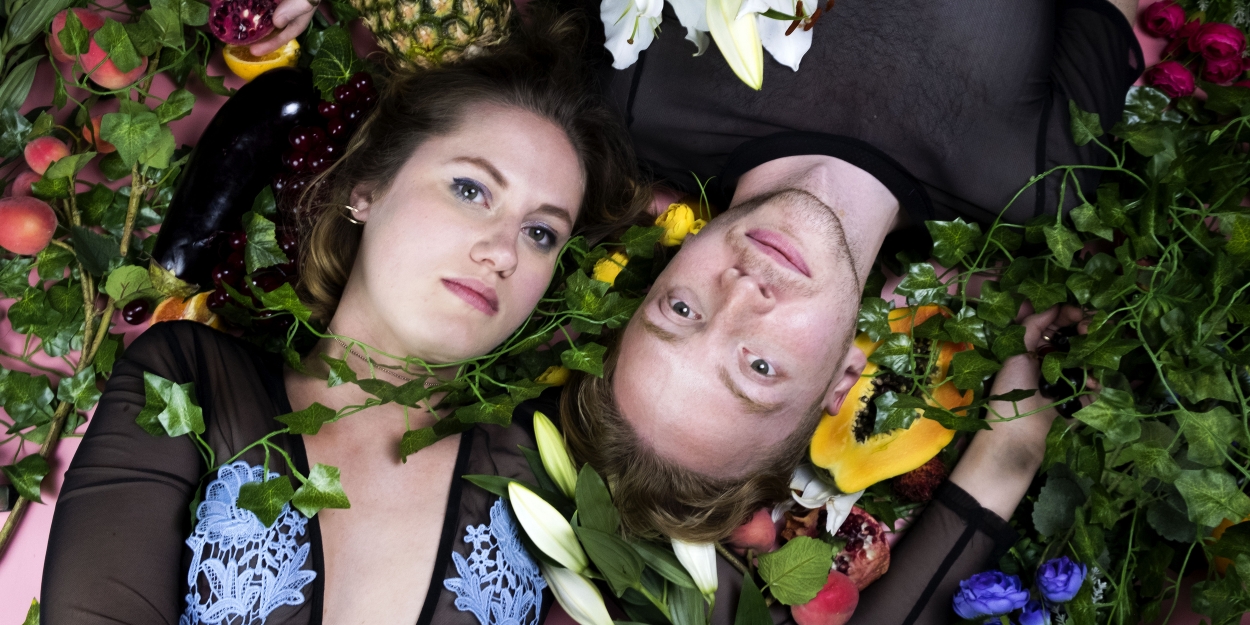 EDINBURGH 2022: Horseplay guest blog
Guest Blog: Horseplay Brings New Character Absurd Comedy to the Fringe
Queer comedy duo Horseplay discuss the process of writing sketch comedy and unique characters.
Kathy Maniura and Derek Mitchell from 'Horseplay' blog for Broadway World on the contribution Believed at the Fringe, the way they create their absurd sketches and the effect the pandemic has had on their talking vagina persona.
Hey! We are Horseplay.
We're Horseplay, a comedy duo of queer characters consisting of Kathy Maniura and Derek Mitchelland we bring our show Believed at the Edinburgh Fringe this summer. It's an absurd, narrative show that takes place in the afterlife and is about sex and performance.
The story follows an assortment of absurd, larger-than-life characters as they try to adjust to the afterlife where you can do whatever you want – except play or have sex. You will meet a famous sex therapist, a failed actress, a talking anus and vagina, and Timothée Chalamet among others. But while sex may be off the menu, and even the smallest demonstration of jazz hands is strictly prohibited, it's still heaven, and everyone is happy, happy, happy.
Where are they? As the stability of the afterlife begins to crumble, it turns out that not everyone may be as thrilled to be doomed to the celestial afterlife as they make out. .. It's a wild ride through musical numbers, quick changes and wigs galore.
Sketch, but make it a game
We both have a theatrical background. Which means sketch comedy — especially when it's over the top and character-driven — has been our forte since we started doing sketches together in college. These days, when it comes to our feature films, we take our experience in more traditional sketches and approach comedy writing the way most people approach the development of a play (think: Shakespeare).
We like to create characters that audiences can get to know in an hour. Characters that change and are unexpected, but at the same time (hopefully) familiar. We like to write songs that make us laugh, in the hope that they will make our audience laugh too. We like sketches because they allow us to tell stories in which we can get lost. And the comedy we do is pretty absurd. We're not necessarily looking to create things that fit a specific mould! Ultimately, we love watching comedies that are thoughtful in their silliness. Joyful comedy that everyone can connect with. And absurdity can also be a way to explore difficult topics – like sex and sexuality, as in Believed.
In all of our work, we create larger-than-life, yet recognizable character worlds. Characters rooted in our experience, allowing us to approach the themes of a show in a way that is both personal and unexpected. But it certainly doesn't happen overnight.
Slow and steady wins the writing session
We met in 2015 when we appeared on a sketch show presented by the Oxford Revue. There were others in the group, and they have all since quit. So our partnership is, in the most practical sense, the result of a simple process of elimination.
From the start, we were drawn to each other because we both love big characters and creating elaborate fictional worlds. When writing a new show, our process is quite (and iconic) involved and time-consuming. We have worked on Believed since 2019 (although there was of course another type of major world event that also threw a real wrench in the works – chicken face emoji)!
We tend to start thinking about the themes we want to explore first: sex, performance, and death, in this case. In addition to the character ideas, we think they could be successful. Then we lock ourselves in a Zoom room/call and talk about everything a million times. We stick post-its on the wall and get to know our characters through improv and work-in-progress shows.
During the pandemic, we separated our existing script and rewrote it several times. Because we're as concerned about the jokes being funny as we are about the characters feeling completely rounded and the story making sense. Ultimately, it's a rewarding process, especially because we can track our progress by reviewing old scripts that still feel loose and adorably rough around the edges. While this is happening, it may seem endless.
There have been times in the past couple of years when the world around us felt more absurd than the version of the afterlife we ​​populated with a talking anus and vagina. And we were often unsure if the show would ever see an audience. The fact that we're bringing her to Underbelly at this year's Fringe feels like a dream come true. We are really looking forward to sharing Believed with the audience and welcome them into our world for an hour.
Horseplay: Bareback, Underbelly Cowgate (Belly Dancer), 10:30 p.m., Aug 4-28 (not 16)
Sponsored Content
Photo credit: Skye Baker