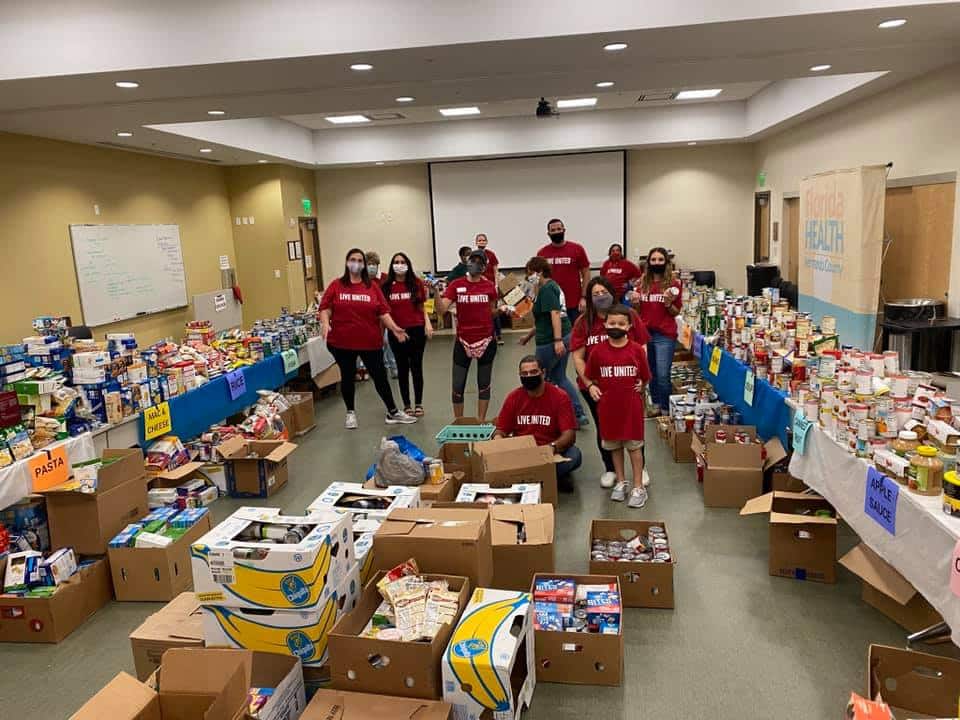 Hernando County United Way Campaign "Thank You, Donate Food"
[ad_1]
Hernando County United Way encourages residents to "give thanks, give food" during the month of October; spreading sunshine for those in need as part of this 2nd annual campaign to benefit five local pantries and shelters in Hernando County.
This year's Give Thanks, Give Food campaign beneficiaries are: Dawn Center Domestic Violence Shelter, St. Vincent de Paul Pantry, People Helping People's Weekend Blessings, Youth & Family Alternatives New Beginning's Youth Shelter and Jericho Road Ministries' Food Barn. All non-perishable food donations collected will be sorted, packaged and distributed to these agencies as part of Centraide's month-long "5 Days of Caring" in November. The distribution will take place the week before Thanksgiving on November 15 at the People Helping People HELP Center on Kass Circle.
Last year, the "Give Thanks Give Food" campaign distributed over 10,762 books. of food to the five programs served, including 579 cans of soup, 973 cans of pasta and 4,150 pounds of rice. And Angie Bonfardino-Walasek, Executive Director / CEO of United Way Hernando County, says the need this year is greater than ever.
"Our food distribution partners have noticed an increase in the number of families in need of food assistance due to the lingering impact of COVID-19 in our community. We encourage everyone to donate what they can and help our local pantries and shelters fill their shelves before the holiday season, "said Bonfardino-Walasek. "This will help ease the burden of the food instability that so many families are grappling with right now. United Way raised over 10,762 pounds of food in 2020, and we aim to exceed that target this year! "
The beneficiaries of this food drive are grateful for the help provided by the "Give Thanks, Give Food" food drive. "It's natural for all of us to find ways in which we think our neighbors could improve their own situation," said Tim Rumptz, pantry supervisor at St. Vincent de Paul. "But over the years that I have spoken with so many local families in need, I can honestly say that everyone already carries their own burden. As part of this year's Food Drive partnership with United Way and their partner agencies, I would ask that we be kind to each other and give what we can to help. We are very grateful for the partnership to help reach those in need at Hernando. "
Becky Burton, executive director of People Helping People at Hernando County, Inc., agrees. "The people who help people in Hernando County are very happy and grateful to the United Way for including us in their annual food drive," she said. "Last year's donations were used to help our weekend blessings program by supplementing the weekly bags that over 600 children receive each Friday. These bags provide child-friendly food that children can eat on the weekends when they are not getting food at school every day. If Centraide helps us, we can help others!
Shannon Sokolowski, executive director of the Dawn Center, says United Way of Hernando County has become a verified member of the Dawn Center family. "The Dawn Center is proud to be a United Way of Hernando County partner agency. The United Way is supporting the Dawn Center's Family and Sexual Violence Services programs as well as our new Economic Justice program through their Community Investment Grant. However, our local United Way strives to go beyond partnership to become a United Way family, "she said. "As part of their family, they have been kind enough to support local accommodation and food efforts during the holiday season. We are very grateful to be included. Over the past few years, we have seen many families enter our shelter program during the holiday season to escape violence in their homes. When we can show them that we can offer them not only security but also a fresh start for the New Year, it is better than any other holiday gift. A full pantry lets survivors know that there is one less thing to fear and that our community is truly there to support them on their journey.
Amanda McCann, Vice President of Development and Recruitment, Jericho Road Ministries, Inc., also sees United Way as a vital community partner. "This holiday season the need for food will be great and we would not be able to meet that need without our community partners," she said. "We are so grateful to United Way partners for helping Jericho Road's vision to end hunger in Hernando County!
You too can join the family of donors by making a donation to the United Way's "Give Thanks, Give Food" food drive. Recipient agencies have provided the following list which identifies the most needed non-perishable items, preferably some easy-to-open items such as bagged foods and cans:
Applesauce

Canned potatoes

Canned fruits, meats and vegetables

Canned beans

Cereal

Powdered milk

Granola bars

Mac & Cheese

Pasta sauce

Peanut Butter & Jelly

Pork & Beans

Rice

Soup and stews

Spaghetti

Padding

Tuna

Tomato sauce
Unopened and unexpired foods can be dropped off at the United Way of Hernando County office (4028 Commercial Way) Monday through Friday between 9:30 a.m. and 4:30 p.m. Special thanks to the local participating locations who have organized or will be hosting internal food drives throughout the month of October:
Bayfront Hospital

Discovery Point Silinsiorn and Seven Hills

Hernando County Administration

Hernando County Animal Services

Hernando County Emergency Management

Hernando County Fire Department

Publix (participating stores)

Bank of Regions (Commercial Channel)

Restaurant of the Dauphin d'Argent

Spherion Staffing Services

Target (US19)

The YMCA

Hernando County Detention Center

Hernando County Libraries

Hernando County Mosquito Control

Hernando County Public Works

Hernando County Sheriff's Office

HCSO District 1

HCSO District 2

Hernando County UF / IFAS Extension Office

Hernando County Public Services Department
Volunteers are needed to help count, sort and organize the collected items! Sign up to volunteer for our "Give Thanks Give Food" distribution on November 15th on our online volunteer portal, Lend A Hand, Hernando. For more information on United Way's "5 Days of Caring" and to sign up for other opportunities during the month of November, click here.
And to spread your own positive community news, send your good news to community reporter Megan Hussey at Hernando Sun, [email protected] Show us your sun!
[ad_2]
Source link