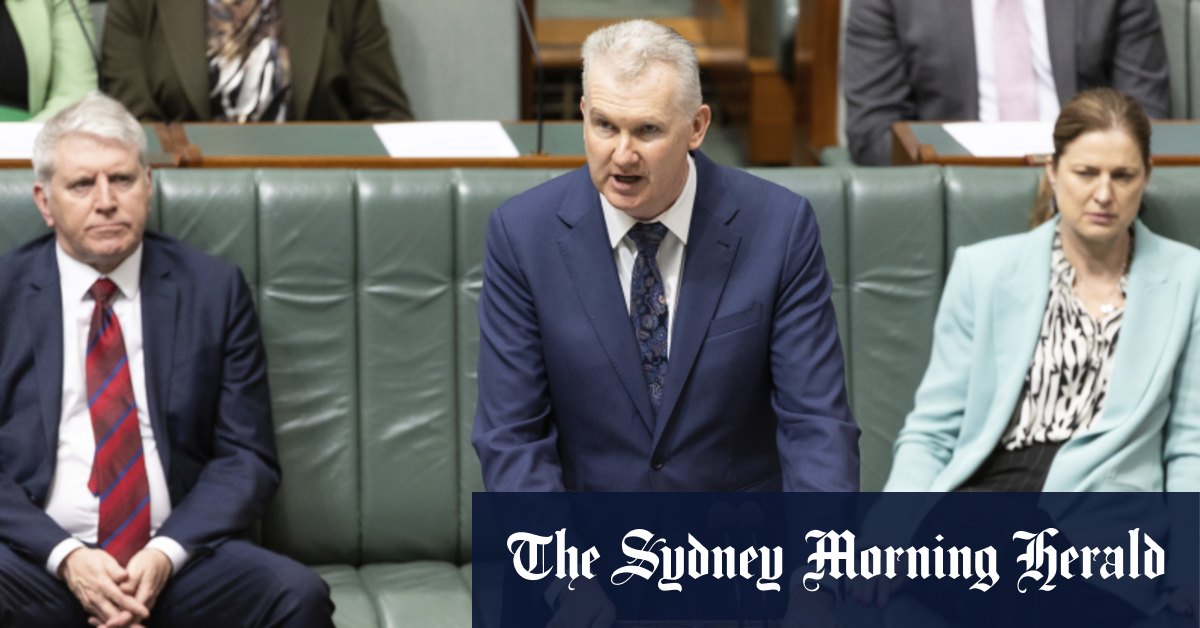 New international relations laws drive rift between government and business over strike fears
[ad_1]
But both Burke and Australian Council of Trade Unions (ACTU) Secretary Sally McManus disputed the companies' forecasts for more strikes, with Burke saying "we have low strike rates. We will always have low strike rates."
Loading
CFMEU's construction division is excluded from multi-employer bargaining due to its history of non-compliance with the law.
Introducing the Secure Jobs, Better Pay Bill on Thursday, Burke said the government was open to reviewing multi-employer agreements to ensure they were "fair, democratic and workable, and occur at the level of the company".
In provisions to prevent a repeat of the Sydney train strikes, the Minister argued that mandatory conciliation before a strike, in which employers and employees must first sit down together to resolve a dispute, would encourage the conclusion of agreements.
"Compulsory conciliation will have a different impact if you potentially have arbitration at the end. You know, if you walk into a meeting and you're asked "can you all agree and if you don't there are no consequences" you're less likely to get an agreement. When you have an arbitration [by the Fair Work Commission] in the end, it doesn't mean that you end up with the commission that makes the decisions; it usually means the parties sort things out faster," he earlier told ABC radio.
McManus said, "We don't want to see more strikes, we want to see more pay raises."
She said the reforms would encourage companies to strike deals rather than face mandatory arbitration by the commission.
"It will mean that there will be more negotiations concluded and there will hopefully be more effective agreements and negotiations. We note that it is in fact extremely difficult to access even the [strike] action, extremely difficult," she said.
In his budget response speech, Opposition Leader Peter Dutton said the new laws would be "a throwback to the 1980s".
Loading
"Labour changes will impose 'one-size-fits-all' industry-wide conditions that will empower unions," he said.
Professor Andrew Stewart, an industrial relations expert from the University of Adelaide, said he was surprised to see complex multi-employer bargaining arrangements put in place so quickly.
"There are many questions to be raised about the Bill's multi-employer bargaining provisions, but the one thing we can say with absolute certainty is that, even if these provisions are introduced, they will not lead to a widespread industrial action," he said.
Minerals Council of Australia chief executive Tania Constable said industry-wide bargaining allows unions, with the approval of the Fair Work Commission, to force bargaining on "any number businesses that meet a broad "common interest" criterion that can link employers by location or type of business.
Loading
"Negotiation is no longer voluntary, and it allows for industrial action in relation to multi-party agreements," Constable said, comparing the bill to the Coalition's controversial industrial relations reforms.
"This is likely to be a work choice for Labour. It's unnecessarily rushed. A promise was made to the unions to reimburse the unions for their support.
The bill also makes changes to the "overall better situation test," a legal threshold that ensures workers don't back out when negotiating wage increases.
As the government had previously reported, the bill abolishes the Australian Building and Construction Commission, makes job security and pay equity explicit aims of fair work law, prohibits sexual harassment and pay secrecy in the workplace and enshrines the right to request flexible working hours. with recourse to the Commission.
Cut through the noise of federal politics with news, opinion and expert analysis from Jacqueline Maley. Subscribers can sign up for our weekly Inside Politics newsletter here.
[ad_2]
Source link