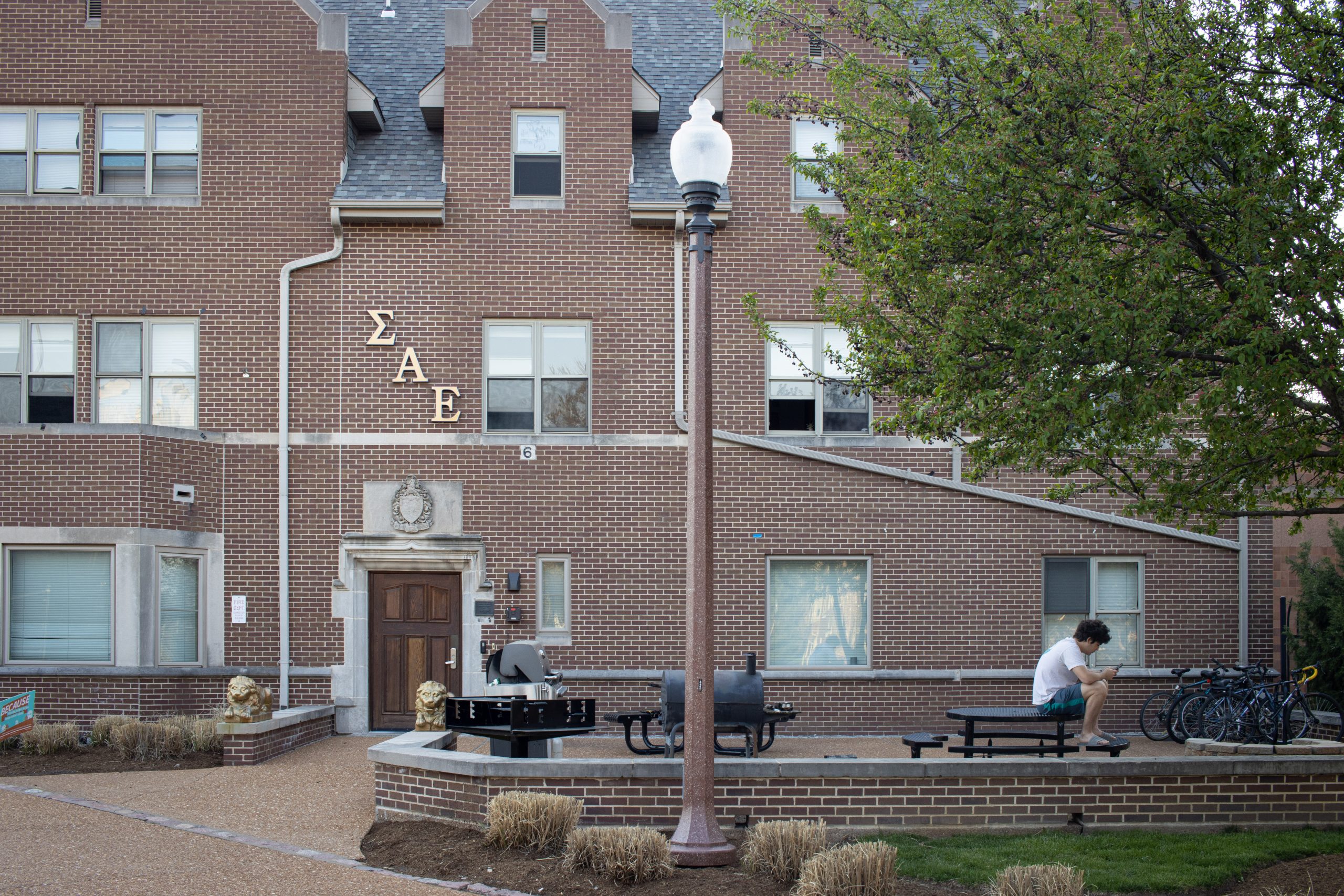 Opinion Submission: For Space Equity, WashU dehouse fraternities
[ad_1]
Of the more than 400 student groups at Washington University in St. Louis, only one type of organization has its own set of houses: the Fellowships of the Interfraternity Council. While the men of the brotherhood, who are disproportionately rich and white, have access to nine houses on campus, students from marginalized communities have little or no space to build community. On campus, the Women's Building, Sakeenah and Hamsini House are among the only spaces allocated to students from historically marginalized backgrounds to build community. This is why we are asking WashU to terminate their housing contracts with the fraternities and instead designate the current fraternity houses as affinity houses.
Research has shown that fraternity housing is responsible for so much damage that Greek life perpetuates on the WashU campus, including alcoholism, hazing and sexual assault. By granting a small group of men exclusive access to residential space for their members in a central location on campus, coupled with little or no accountability for interpersonal violence or conduct violations, Fellowship Houses enable toxic masculinity, rape culture and violence fester. A paper by professors at Lehigh University discovered that fraternity houses were dangerous places for women; in 2018, a student survey of sexual violence among sorority sisters corroborated these findings, reporting that a sixth had experienced unwanted sexual touching or interpersonal violence from fraternity members. The author of the survey concludes: "There are no sure fraternities."
In addition, the fraternities have done nothing to gain the space they occupy. If student groups such as cultural organizations or a cappella groups do not have accommodation for their members, there is no reason why fraternities deserve special status as student groups. On the contrary, when the fraternity houses were first built and donated to the fraternities, WashU still had not yet admitted black students in all its programs, the national fraternities apply rigid exclusion of racial minorities, and "Aryan clauses"In fraternity constitutions prohibits Jewish students (and other non-Christians, non-whites) from joining. The University has failed to explain why fraternities deserve this accommodation more than any other group of over 400 on campus. Continuing to allow fraternities to occupy these homes only sends a message that the University accepts and approves of the unequal treatment of its students, disproportionately granting special favor to white, wealthy and heterosexual males.
In contrast, affinity housing has been shown to offer immense benefits to college campuses, especially for the most marginalized students. They create a space for students of diverse identities to explore their identity, create community and be surrounded by peers who have shared lived experiences. Establishing these homes means we can create spaces where LGBTQIA + students won't have to worry about homophobic or transphobic roommates; where students of color can connect with our cultural and historical backgrounds, in a predominantly white institution; and where religious students can explore their faith, pray and live together. These spaces help students feel more comfortable on their campuses, offer events and programs that benefit the student body, and provide a strong residential support system to lean on and speak up on in cases of racism, sexism. , homophobia, transphobia, anti-Semitism or discrimination on campus.
We call on the University of Washington to terminate their housing contracts with IFC fraternities and publicly commit to reassigning the fellowship houses as affinity space for Blacks, Latinx, Asians, Indigenous, MENA, low-income, international, LGBTQIA +, women, Muslims, Jews, and students with different abilities. Students from diverse backgrounds have long been symbolized by WashU, without receiving the material institutional support necessary to ensure that our voices are raised. The Hamsini house replacing Phi Delta Theta and transfer accommodation Beta Theta Pi replacement are just the first steps in creating lasting change in the pursuit of fairness: For too long, fraternities have occupied too much undeserved space on campus. This step is necessary to create a more egalitarian and just community, where all students will feel and know that they belong.
Sign,
Tinuola B. Adebukola, President of WashU's Women & Non-Binary Multicultural Association
Maurice Wang, Mandy Feenstra and Ranen Miao, co-chairs of the Asian Multicultural Council
Amadi MuseMorris, President of the Association of Black Students
Christian Monzon, President of the Latin American Students Association
Trey Davis, President of the Coalition of Black Men
Alexandra Khalil, President of the Middle East and North Africa Association
Alec Champs, President of the Association of Jewish Students
Briana Garil, Chairman of the Board of Directors Hillel
Sabrina Lozada and Alex Herrera, Carnival directors
Bryanna Mendez and Carlos Cepeda, Directors Latinxpresión
Jessica Huang and Ally Sun, co-executive directors of the LNYF
Nayana Vuppala, Ashoka Co-Chair Garba and Former Alpha Phi Fellow
Audrey Pilgrim, President of WashU Pride Alliance
Bohrer lane, Transcendent gender facilitator
Onyi Onyeador, Chair of teaching racial understanding through honesty
Helen Webley-Brown, President of European Horizons at WashU
Mandy Feenstra, President of the Vietnamese Students Association
Drew Perkoski, Acting Vice President of Social Programming for the Hillel Leadership Council
Lauren Blaydon, President of the Southern Congress 40
Angela Gormley, President of Reflections
Sandhya Thomas, Sur Taal Laya A Cappella Group Coordinator
Dakotah Jennifer and Jihoun Im, Sensasians Acappella group coordinators
Alice Na and Uma Kocherlakota, Co-presidents of PL4Y
Emily Angstreich and Lily Swenson, Co-Chairs of the Uncle Joe Peer Resource and Consultation Center
Cam Lind, President of KWUR
Hannah Grimes and Kiana Angela Macharia, WU-Slam Co-Chairs
Emma Singh, Chairman of the WashU College Democrats and Roosevelt Network
Ethan Shen, President of YoWU
Françoise Wu, President of the WashU Pre-Law Society
Lawton Blanchard, President of Burning Kumquat
Sarah Rosen, Secretary of Planned Parenthood Generation Action
Meenu Bhooshanan, member of Ekta
Michelle perez, President of Alpha Psi Lambda
Philippe Keisler, President of the Honor Society Phi Delta Phi
Izzy Jefferis, Former President of Lambda Q and Member of Pi Beta Phi
John Harry Wagner, Former social president and president of the Beta Theta Pi Fraternity
Dora Tabachnick, President of WashU Save a Child's Heart
Layna Paraboschi, President of Alpha Phi Omega
Maya Grégory, President of the WashU Children's Project and former member of Chi Omega
Emilie Regan, Former President of the Pan-Hellenic Association of Women
President of MeToo Washu
Matthew Berman, Former Director of Social Justice for the Washington University Interfraternity Council
Jaclyn Liu, co-chair of Partners in East St. Louis and former member of Alpha Omicron Pi
Emma Platt, Chairman of the League Senate Diversity and Inclusion Committee
Braxton Sizemore, President of the League Senate
Nkemjika Emenike, former president of the Senate of the League
Miry Goodman, Vice President of the Student Body of Programming and Chairman of the Social Programming Council
Myriam Silbermann, Executive Vice President of the Student Body
Ranen Miao, President of the student body
[ad_2]
Source link